How To Celebrate National Water Quality Month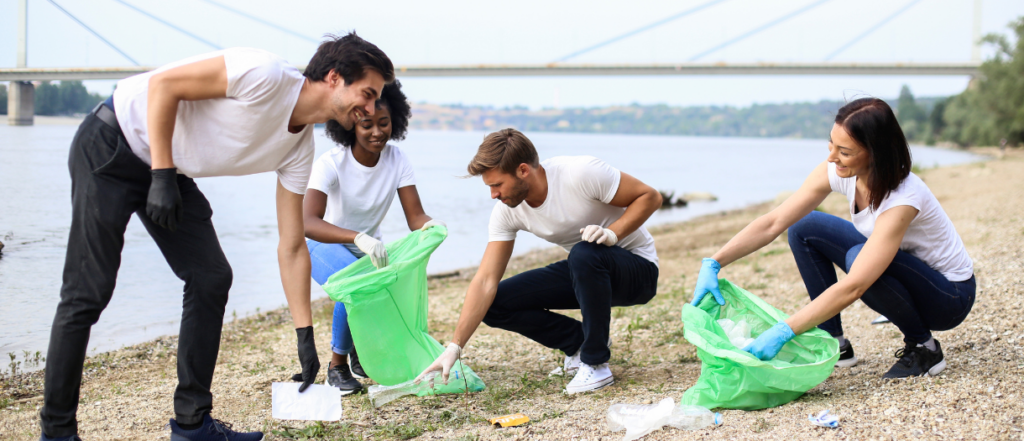 During any given month of the year, and not just during National Water Quality Month, you've probably considered a resolution to improve your overall lifestyle. If you've ever made a New Year's resolution, one of the first things you probably thought about was aspiring to improve your personal health and well-being. Was this staying committed to a sound diet? Setting a consistent sleep schedule? Getting outside for 60+ minutes in the summer? If so, you've more than likely valued doing the little things to make a big difference in the long run when it comes to your health.
But what about water? In the past few years, increasing your water intake, among other water-oriented lifestyle habits, has joined the conversation when it comes to overall health. But for over 15 years, since 2005, National Water Quality Month has been a well-rounded effort to promote ways that we can value our water sources more than ever before. Join us in commemorating National Water Quality Month and check off a few items from this celebratory checklist!
Organize Water Conservation Efforts
There's no denying that there's a direct relationship between the environment and water quality. While over 70% of the Earth's surface area is made of water, only 3% of it is classified as freshwater, and only 1% of that fresh water is easily accessible. When we all do our part to support the ecosystems around us, we get healthy, accessible water back in return. Here are just a few efforts that you and your friends can put together to make the water around you cleaner and safer.
Organize a Stream Cleanup: With rapid flowing water across the world, streams can transport trash, debris, and pollutants to major water sources anywhere. By organizing a stream cleanup, you and your friends can keep large amounts of water from becoming littered and making a major difference in how much water can be used from that source.
Join a Beach Cleaning Group: Between tourists, beachside residence, and natural causes, sandy beaches are a vast space that can become cluttered with trash and litter of all sizes. What's worse is that many beaches feed into major water sources, including oceans, seas, and lakes. By joining a beach cleaning organization, you can become part of an organized effort to helping water quality and sea wildlife alike.
Adopt a Watershed: Adopting a watershed is a fantastic way for you to become a leader of what's most important to you: your community and the resources most important to it. This is also a great way to become more educated on water quality in general!
Start a Tree Planting Initiative to Prevent Erosion: Helping the trees is also helping the water. Who knew? In all seriousness, it's always a good thing to support the ecosystem that your community might be in. By planting trees and keeping erosion to a minimum, landslides will occur less often in elevated areas of the world, keeping fresh water sources expansive and clean.
Donate Resources to Local Organizations: While one person can in fact make a difference, it's sometimes best to start at the local level and benefit those who live closest to us! There are plenty of local food banks, nonprofit groups, and organizations for people without housing who will accept and redistribute water and reusable water bottles to those who may not have accessible water.
Expand Your Knowledge on the Value of Water
We might know how important water is to our everyday, but we might lose sight of our value for it since we're using it so often. When we take the time to educate ourselves on crucial things like water, we're also taking the time to value the things that allow us to live a better, healthier life.
Water Use: The average human uses about 101 gallons of water each day. That's over $445 USD worth of milk, in one day alone! When it comes to water waste, "everything you put down the sewer, your toilet, your sink, and in the street, ends up in a river somewhere or in the ground somewhere," explains Frank Brigano, Ph.D., Water Quality Industry Advisor and Principle at Brigano Consulting, LLC. "Your environmental consciousness needs to be complete. It can't just be for part of what you do." When we become more conscious of the water we're using, we can make better, more informed decisions on how to use it.
Accessibility to Water: While water might be key to our everyday lives, that doesn't always mean it's easy to get ahold of! Consider Flint, Michigan, a key case of how not every area of the world has a way to get clean water into the home. Even though nonprofits and companies across the United States are hard at work to help, it's important to know that water is a privilege, and not a right given to all.
Water is Life, Every Single Day: August may have thirty-one days in it, but that doesn't mean water is only important for thirty-one days! Before you know it, August will be done. Fortunately, you can keep reading this article for weeks (and months) to come and keep these efforts going to help the communities – and world – around us.
Consider Eco-Friendly Home Water Practices
While it's on all of us to come together to support the world we live in, we can always do our part individually by investing in our homes. Just like our individual efforts, any purchase can make a big difference when it comes to valuing our use of water and how to conserve its quality in the long run.
Check In on the Bathroom: It's no secret that any repair bill around the home can be pricey. Avoid these before it's too late by keeping an eye out for leaks from the tub, or any showers or tiles that may not fit your bathroom perfectly. If you're hoping to get your dream bathroom that protects both you and your home while saving water, learn all about Leaf Home Safety Solutions.
Make Smart Choices Outside the Home: Some of the biggest water wastes we commit occur outside. Simple ways to make a change are to reduce and reuse! For example, avoid using a hose when it might not absolutely be needed, reduce your use of pesticides and chemical fertilizers, or based on your home state's laws, consider a rain barrel; to collect and repurpose rainwater for home projects.
Learn about Hard Water: Anywhere between 70-85% of water used in the United States is classified as hard water. Think about how much better life would be with crisp, clean water! If you want to provide your loved ones with cleaner water than ever before, it might be time to consider getting a professionally installed water filtration system. Brigano continues, "a customer should feel comfortable, if they bought a unit that's certified, that unit will achieve what it's supposed to achieve for contaminant reduction." Between iron, lead, and chlorines, there's never been a better time to learn if home water solutions are right for your home and your family.
Focus On the Roofs and Gutters: The roof, gutters, and foundation take some serious damage from water precipitation, and both buyers and realtors will take any chance they can get to spot as much damage as possible. To prevent these issues, we recommend a professional gutter installer who can inspect your gutters for free and install gutter protection direction. Learn more about this from LeafFilter Gutter Protection.
With even a bit of consideration, and some hard work alongside your friends and family, you can play a major role in supporting National Water Quality Month. When we all do our part, we're making crisp, clean water more accessible for people worldwide. Doesn't that sound refreshing?
Continue learning more about the value of water at https://www.leafhomewatersolutions.com/blog/.