Decluttering your home before the holidays creates more free time to spend with your loved ones. These five tips will show you how to declutter your home, help you prioritize and manage your home organization, and all in a timely manner. Working room by room can help to ease any possible clutter chaos when the holidays are in sight.
Tip #1: Create Home Declutter Piles
Before you start moving, arranging, and decluttering things inside your home, creating separate clutter piles will keep you organized and help you make defined decisions. Organizing items by the time of the year and item type are great places to start, but creating piles based on categories will be even more helpful.
Donate: Not every item is worth keeping in your home. When you've reached the end of your use for an item, but it has more life in it, add it to the donate pile. These tips can help in deciding what and when to donate.
Trash / Recycle: Just because something is at the end of its life, make sure you put it in separate piles based on whether it can be recycled or not. Here are a few items you can throw out in your home.
Keep: Anything that needs to be put away.
#2: Work Room by Room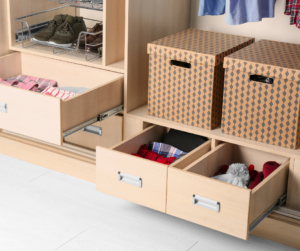 When you are ready to start sorting the clutter in your home, the best way to keep things on schedule for decluttering before the holidays is to work room by room. Create your clutter piles from the first tip in each room of the house you're organizing.
Bedroom: An extra way to feel more organized is by starting off with making your bed. It's hard to feel like you are making progress when your bed is as cluttered as your home.
Bathroom: Keep up on expiration dates for skincare and cosmetics by following this guide. Removing expired products frees up space and helps you make a list of what you need to refill.
Closet / Storage: Using bins or baskets on shelves can keep your closets from looking cluttered and overwhelming.
Kitchen: You can choose to declutter your kitchen by focusing on one category or item at a time: silverware, plates and dishes, cups and mugs, baking and cooking ware.
Seasonal Tip #3: Store Your Off-Season Items
With the warm weather coming to an end this holiday season, pack away all those lighter clothes and make room for your chunky knits and cold-weather accessories. Add labels to the bins, boxes, or tubs you use to help stay organized next year when you are switching your closet back. To keep your clothes smelling fresh, add a dryer sheet or piece of scented soap before packing up those bins.
#4: Clean as You Go
After removing the clutter from each room, be sure to wipe down surfaces as you go. This will help you skip a step before the holiday rush begins, as your home will already be clean, organized, and sparkling. Be sure to pay attention to walls, closets, and high-traffic areas such as the bathrooms and garage. Try to clean areas you usually skip over, like kitchen cabinets, shower curtain liners, and light fixtures. These cleaning products for the holiday season smell great and help to add winter holiday cheer.
Decorate for the Holidays: Tip #5
Now that your home is clean and free of unused, unwanted, and off-season items, you can finally start your holiday decorating. After working through these decluttering tips, break out those cherished decorations you've been saving. Make sure everything has a place and work with a set color palette to keep your home looking structured and purposed instead of cluttered and scattered.
After you work through these tips, its time to enjoy your free time with loved ones. The holidays are a great time to reset and unwind with those that matter. When they finally come to an end, keep up with all of your organizing and put your holiday decor into a designated spot with labeled bins. This will help make your next holiday season a breeze. One last tip for decluttering your home is to set a "cleaning timer." That way, you can set aside 10-20 minutes per room before any fatigue sets in. Plus, it helps break up your chores into increments. If you're looking into preparing to sell your home, this checklist will be your organizing and cleaning guide.